Unbounce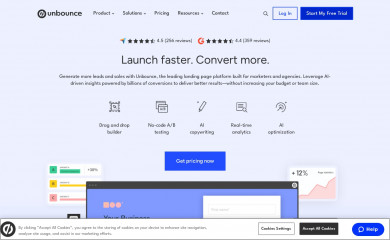 Grow your relevance, leads, and sales with Unbounce. Use Unbounce to easily create and optimize landing pages for your small business and boost conversions with AI insights.
Editor / Landing Page Builder / CMS
Usage Statistics
Market Share
The market share for Unbounce increased by 0.024 percentage points (from 0.053% to 0.077%) for all sites, more than any other segment for the same time period.
| | Top 1K sites | Top 10K sites | Top 100K sites | Top 1M sites | All Sites |
| --- | --- | --- | --- | --- | --- |
| Market Share | | | | | |
| Websites | 22 | 123 | 624 | 2,201 | 15,210 |
| % Change | 80% | 98.25% | 87.89% | 33.13% | 45.28% |
Top Level Domains
Websites using Unbounce were found on 122 top level domains
Commercial (.com) (60.59%)
Brazil (.br) (6.67%)
Australia (.au) (5.728%)
United Kingdom (.uk) (2.522%)
Organization (.org) (2.199%)
Canada (.ca) (1.61%)
Columbia (.co) (1.574%)
Network (.net) (1.515%)
Germany (.de) (1.5%)
British Indian Ocean Territory (.io) (1.419%)
Chile (.cl) (1.125%)
Italy (.it) (0.978%)
France (.fr) (0.824%)
Netherlands (.nl) (0.647%)
Belgium (.be) (0.647%)
United States of America (.us) (0.64%)
Education (.edu) (0.632%)
New Zealand (.nz) (0.603%)
Denmark (.dk) (0.588%)
Switzerland (.ch) (0.588%)
Info (.info) (0.522%)
Mexico (.mx) (0.515%)
Austria (.at) (0.485%)
Anguilla (.ai) (0.427%)
Spain (.es) (0.412%)
European Union (.eu) (0.294%)
Norway (.no) (0.228%)
India (.in) (0.206%)
South Africa (.za) (0.199%)
Online (.online) (0.184%)
Indonesia (.id) (0.154%)
Tech (.tech) (0.154%)
Israel (.il) (0.154%)
Portugal (.pt) (0.154%)
Sweden (.se) (0.147%)
Montenegro (.me) (0.14%)
Argentina (.ar) (0.132%)
Singapore (.sg) (0.132%)
Romania (.ro) (0.125%)
Korea, South (Republic of Korea) (.kr) (0.118%)
Peru (.pe) (0.103%)
Biz (.biz) (0.103%)
Slovakia (.sk) (0.103%)
Ireland (.ie) (0.096%)
Malaysia (.my) (0.088%)
United Arab Emirates (.ae) (0.088%)
Hungary (.hu) (0.081%)
Site (.site) (0.074%)
Poland (.pl) (0.066%)
Shop (.shop) (0.066%)
72 Others (1.655%)
---
Related Technologies
Complementary Technologies
---
| Technologies | Category | Websites | Compare |
| --- | --- | --- | --- |
| PHP | Programming Language | 5,655 | Unbounce vs. PHP |
| MySQL | Database | 4,703 | Unbounce vs. MySQL |
| WordPress | Blog / CMS | 4,460 | Unbounce vs. WordPress |
| Cloudflare | CDN | 3,962 | Unbounce vs. Cloudflare |
| Nginx | Web Server | 3,337 | Unbounce vs. Nginx |
| Google Hosted Libraries | CDN | 2,872 | Unbounce vs. Google Hosted Libraries |
| Microsoft ASP.NET | Web Framework | 2,406 | Unbounce vs. Microsoft ASP.NET |
| Apache | Web Server | 2,232 | Unbounce vs. Apache |
| Windows Server | Operating System | 2,204 | Unbounce vs. Windows Server |
| IIS | Web Server | 2,195 | Unbounce vs. IIS |
| cdnjs | CDN | 1,866 | Unbounce vs. cdnjs |
---
Popular Sites Using Unbounce
We detected the following sites were using Unbounce
singular.net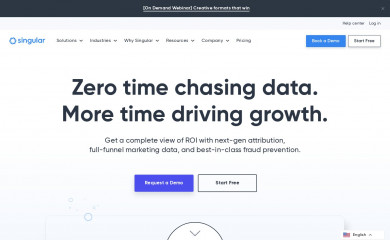 deployads.com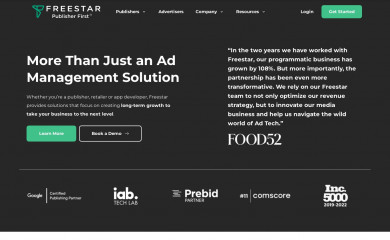 emarsys.net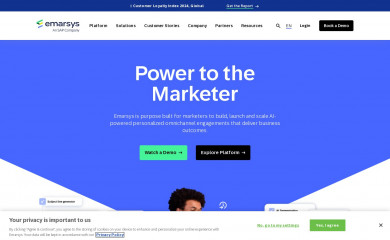 dowjones.com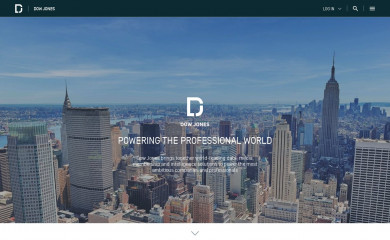 dlink.com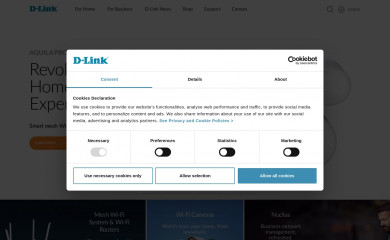 kochind.com