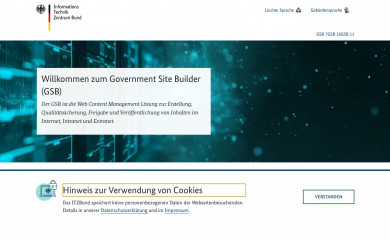 The Government Site Builder (GSB) is the content management solution of the German federal administration. GSB users include ministries, supreme courts, many subordinate federal institutions and also the website of the state of Schleswig.Holstein.
Meta
A CMS will sometimes include a meta tag within the html of each page. This is usually a "generator" tag like <meta name="generator" content="What CMS" /> but could also be "application-name", "Powered-By" or anyting else the CMS creators decide to use.
Markup
If a CMS doesn't have meta tags, it will often have other uniquely identifiable html markup. This can range from unique html comments, ids or classes.
Versions
In addition to detecting the CMS, in some cases we are able to accurately detect which version of the CMS is being used.