wpBakery
---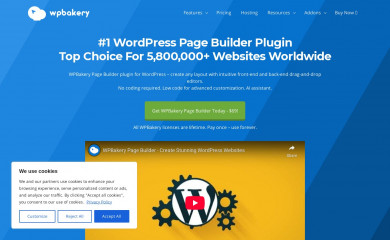 WordPress Page Builder plugin with intuitive drag and drop interface. Build any page fast and easy. Unlimited layouts for your website. Get it today!
Market Share By Site Popularity
The market share for increased by 1.069 for Less Popular Sites, more than any other segment for the same time period.
| | Alexa Rank | Websites | Market Share | Market Share Change |
| --- | --- | --- | --- | --- |
| Most Popular Sites | < 1,000 | 36 | 3.600% | 12.5% |
| Very Popular Sites | < 10,000 | 368 | 3.681% | 15.72% |
| Popular Sites | < 100,000 | 2,974 | 2.974% | 21.29% |
| Less Popular Sites | < 1,000,000 | 36,892 | 3.689% | 40.8% |
| All Sites | | 375,392 | 3.324% | 28.89% |
Market Share History
This chart shows the history of detected websites using .
In the last 1 month, market share has increased 28.89% from 2.579% to 3.324%
Top Level Domains
Websites using were found on 257 top level domains
| Top Level Domains | Percent |
| --- | --- |
| Commercial (.com) | 39.29% |
| Australia (.au) | 9.892% |
| Germany (.de) | 4.126% |
| Chile (.cl) | 3.693% |
| Organization (.org) | 2.897% |
| Italy (.it) | 2.888% |
| United Kingdom (.uk) | 2.662% |
| Netherlands (.nl) | 2.453% |
| Austria (.at) | 2.422% |
| France (.fr) | 1.896% |
| Network (.net) | 1.664% |
| New Zealand (.nz) | 1.550% |
| Romania (.ro) | 1.460% |
| Iran (.ir) | 1.209% |
| Spain (.es) | 1.187% |
| Poland (.pl) | 1.145% |
| Brazil (.br) | 1.106% |
| Canada (.ca) | 1.097% |
| Greece (.gr) | 1.036% |
| India (.in) | 0.932% |
| Columbia (.co) | 0.853% |
| Switzerland (.ch) | 0.807% |
| Denmark (.dk) | 0.766% |
| European Union (.eu) | 0.668% |
| Russia (.ru) | 0.571% |
| South Africa (.za) | 0.522% |
| Belgium (.be) | 0.507% |
| Mexico (.mx) | 0.465% |
| Portugal (.pt) | 0.444% |
| Sweden (.se) | 0.372% |
| Indonesia (.id) | 0.314% |
| Lithuania (.lt) | 0.297% |
| Turkey (.tr) | 0.285% |
| Vietnam (.vn) | 0.266% |
| Argentina (.ar) | 0.265% |
| Norway (.no) | 0.258% |
| Pakistan (.pk) | 0.249% |
| Slovakia (.sk) | 0.249% |
| Belarus (.by) | 0.242% |
| British Indian Ocean Territory (.io) | 0.230% |
| Hungary (.hu) | 0.227% |
| Ireland (.ie) | 0.227% |
| Finland (.fi) | 0.221% |
| Info (.info) | 0.215% |
| Peru (.pe) | 0.194% |
| Malaysia (.my) | 0.186% |
| Slovenia (.si) | 0.183% |
| Czech Republic (.cz) | 0.181% |
| Nigeria (.ng) | 0.156% |
| Ukraine (.ua) | 0.155% |
| Singapore (.sg) | 0.155% |
| Morocco (.ma) | 0.151% |
| Serbia (.rs) | 0.150% |
| Croatia (.hr) | 0.145% |
| Israel (.il) | 0.144% |
| Kenya (.ke) | 0.143% |
| United Arab Emirates (.ae) | 0.132% |
| United States of America (.us) | 0.127% |
| Bulgaria (.bg) | 0.118% |
| Tuvalu (.tv) | 0.114% |
| Biz (.biz) | 0.111% |
| Montenegro (.me) | 0.109% |
| Estonia (.ee) | 0.105% |
| Online (.online) | 0.099% |
| Shop (.shop) | 0.097% |
| Ecuador (.ec) | 0.094% |
| Education (.edu) | 0.091% |
| Latvia (.lv) | 0.082% |
| Sri Lanka (.lk) | 0.073% |
| Macedonia (Republic of Macedonia) (.mk) | 0.068% |
| Bangladesh (.bd) | 0.068% |
| Cat (.cat) | 0.064% |
| Albania (.al) | 0.060% |
| Pro (.pro) | 0.060% |
| Tunisia (.tn) | 0.059% |
| Saudi Arabia (.sa) | 0.057% |
| Thailand (.th) | 0.057% |
| Bosnia and Herzegovina (.ba) | 0.056% |
| Philippines (.ph) | 0.056% |
| Store (.store) | 0.055% |
| Hong Kong (.hk) | 0.054% |
| Iceland (.is) | 0.051% |
| Japan (.jp) | 0.051% |
| Moldova (.md) | 0.048% |
| Tech (.tech) | 0.047% |
| Anguilla (.ai) | 0.045% |
| Georgia (.ge) | 0.043% |
| XYZ (.xyz) | 0.043% |
| Niue (.nu) | 0.043% |
| Taiwan (Republic of China) (.tw) | 0.042% |
| Government (.gov) | 0.040% |
| Kazakhstan (.kz) | 0.038% |
| Club (.club) | 0.036% |
| Dominican .Republic (.do) | 0.036% |
| Uruguay (.uy) | 0.034% |
| Luxembourg (.lu) | 0.034% |
| Design (.design) | 0.034% |
| Azerbaijan (.az) | 0.033% |
| Cocos (Keeling) Islands (.cc) | 0.033% |
| Cyprus, Republic of (.cy) | 0.032% |
| 157 Others | 1.106% |