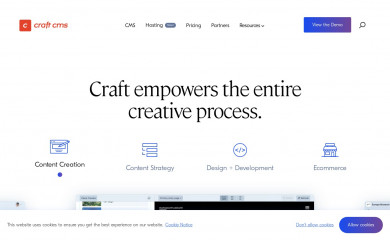 Craft is a flexible, user-friendly CMS for creating custom digital experiences on the web and beyond.
The market share for Craft CMS decreased by 0.031 percentage points (from 0.155% to 0.124%) for all sites, more than any other segment during the same period of time.
Meta
A CMS will sometimes include a meta tag within the html of each page. This is usually a "generator" tag like <meta name="generator" content="What CMS" /> but could also be "application-name", "Powered-By" or anyting else the CMS creators decide to use.
Headers
HTTP headers can provide some of the best clues about a site's CMS. The values of set-cookie and x-powered-by headers are the most common and easiest to find.
Markup
If a CMS doesn't have meta tags, it will often have other uniquely identifiable html markup. This can range from unique html comments, ids or classes.
Javascript
Similar to identifiable html markup, a CMS will sometimes insert unique Javascript code into web pages.