Squarespace Commerce
---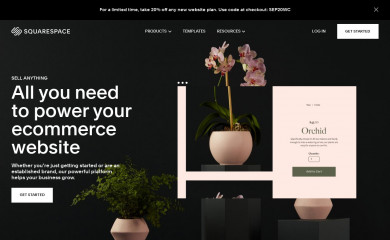 Start selling with an online store. Sell online with a professional eCommerce website powered by our all-in-one platform. Optimize your online store to sell more and grow your eCommerce business.
Market Share By Site Popularity
With a 0.083 increase since 2021-01-03, the detection rating for has improved the most amongst Less Popular Sites.
| | Alexa Rank | Websites | Market Share | Market Share Change |
| --- | --- | --- | --- | --- |
| Most Popular Sites | < 1,000 | 1 | 0.100% | 0% |
| Very Popular Sites | < 10,000 | 4 | 0.040% | 300% |
| Popular Sites | < 100,000 | 17 | 0.017% | 1600% |
| Less Popular Sites | < 1,000,000 | 839 | 0.084% | 8300% |
| All Sites | | 7,493 | 0.067% | 3250% |
Market Share History
This chart shows the history of detected websites using .
In the last 2 weeks, market share has increased 3,250.00% from 0.002% to 0.067%
Top Level Domains
Websites using were found on 88 top level domains
| Top Level Domains | Percent |
| --- | --- |
| Commercial (.com) | 71.27% |
| Australia (.au) | 6.767% |
| Organization (.org) | 5.142% |
| United Kingdom (.uk) | 3.507% |
| Columbia (.co) | 1.758% |
| Network (.net) | 1.550% |
| Canada (.ca) | 1.389% |
| New Zealand (.nz) | 1.389% |
| Sweden (.se) | 0.699% |
| Germany (.de) | 0.652% |
| Austria (.at) | 0.435% |
| Denmark (.dk) | 0.416% |
| Switzerland (.ch) | 0.340% |
| Ireland (.ie) | 0.321% |
| United States of America (.us) | 0.293% |
| Montenegro (.me) | 0.284% |
| France (.fr) | 0.236% |
| Norway (.no) | 0.227% |
| British Indian Ocean Territory (.io) | 0.227% |
| Belgium (.be) | 0.198% |
| Finland (.fi) | 0.180% |
| Italy (.it) | 0.170% |
| Design (.design) | 0.161% |
| Netherlands (.nl) | 0.151% |
| Online (.online) | 0.132% |
| Singapore (.sg) | 0.113% |
| Space (.space) | 0.113% |
| Spain (.es) | 0.113% |
| Life (.life) | 0.113% |
| Tuvalu (.tv) | 0.104% |
| Club (.club) | 0.104% |
| Store (.store) | 0.076% |
| Live (.live) | 0.076% |
| Shop (.shop) | 0.076% |
| European Union (.eu) | 0.076% |
| Info (.info) | 0.066% |
| Romania (.ro) | 0.066% |
| Education (.edu) | 0.057% |
| Mexico (.mx) | 0.057% |
| Media (.media) | 0.057% |
| India (.in) | 0.047% |
| Brazil (.br) | 0.047% |
| Laos (.la) | 0.047% |
| Portugal (.pt) | 0.038% |
| Cocos (Keeling) Islands (.cc) | 0.038% |
| Hong Kong (.hk) | 0.038% |
| Tech (.tech) | 0.028% |
| Iceland (.is) | 0.028% |
| South Africa (.za) | 0.028% |
| Biz (.biz) | 0.028% |
| Vietnam (.vn) | 0.019% |
| Travel (.travel) | 0.019% |
| One (.one) | 0.019% |
| Latvia (.lv) | 0.019% |
| Niue (.nu) | 0.019% |
| Russia (.ru) | 0.019% |
| Lithuania (.lt) | 0.019% |
| Poland (.pl) | 0.019% |
| Philippines (.ph) | 0.019% |
| XYZ (.xyz) | 0.019% |
| Japan (.jp) | 0.019% |
| Isle of Man (.im) | 0.019% |
| Sri Lanka (.lk) | 0.009% |
| American Samoa (.as) | 0.009% |
| Nepal (.np) | 0.009% |
| Ukraine (.ua) | 0.009% |
| Ecuador (.ec) | 0.009% |
| Hungary (.hu) | 0.009% |
| Antigua and Barbuda (.ag) | 0.009% |
| Taiwan (Republic of China) (.tw) | 0.009% |
| Government (.gov) | 0.009% |
| Estonia (.ee) | 0.009% |
| China (.cn) | 0.009% |
| Kenya (.ke) | 0.009% |
| Today (.today) | 0.009% |
| Chile (.cl) | 0.009% |
| Mongolia (.mn) | 0.009% |
| Dominican .Republic (.do) | 0.009% |
| News (.news) | 0.009% |
| Malaysia (.my) | 0.009% |
| Pro (.pro) | 0.009% |
| Czech Republic (.cz) | 0.009% |
| Anguilla (.ai) | 0.009% |
| Luxembourg (.lu) | 0.009% |
| Libya (.ly) | 0.009% |
| Peru (.pe) | 0.009% |
| Armenia (.am) | 0.009% |
| Samoa (.ws) | 0.009% |
Dependencies
---
Squarespace Commerce depends on 1 technology
Squarespace
Dependents
---
0 technologies depend on Squarespace Commerce