Django CMS
---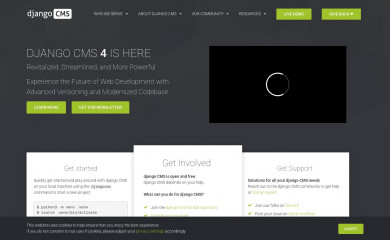 django CMS - Enterprise Content Management with Django - django CMS
Market Share By Site Popularity
| | Alexa Rank | CMS Rank | Market Share |
| --- | --- | --- | --- |
| Most Popular Sites | < 1,000 | n/a | n/a |
| Very Popular Sites | < 10,000 | n/a | n/a |
| Popular Sites | < 100,000 | #403 | 0.001% |
| Less Popular Sites | < 1,000,000 | #491 | 0.0001% |
| All Sites | | #491 | 0.0001% |
Market Share History
This chart shows the history of detected websites using Django CMS.

Top Level Domains
Websites using Django CMS were found on 2 top level domains
| Top Level Domains | Percent |
| --- | --- |
| Organization (.org) | 50.00% |
| Austria (.at) | 50.00% |
Popular Sites Using Django CMS
We detected the following sites were using Django CMS
schaadfoto.at
How We Detect Installations of Django CMS
Meta
A CMS will sometimes include a meta tag within the html of each page. This is usually a "generator" tag like <meta name="generator" content="What CMS" /> but could also be "application-name", "Powered-By" or anyting else the CMS creators decide to use.
Let us know if you have any suggestions on how we can better detect Django CMS installations
Compare Django CMS
---