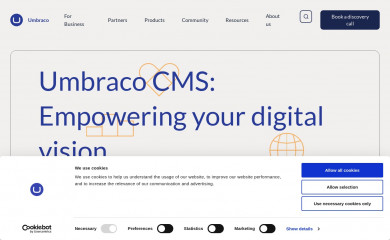 Umbraco is the leading open-source ASP.NET Core CMS | More than 700,000 websites worldwide are powered by our flexible and editor-friendly CMS
The market share for Umbraco decreased by 0.12 percentage points (from 0.279% to 0.159%) for all sites, more than any other segment during the same period of time.
Meta
A CMS will sometimes include a meta tag within the html of each page. This is usually a "generator" tag like <meta name="generator" content="What CMS" /> but could also be "application-name", "Powered-By" or anyting else the CMS creators decide to use.
Headers
HTTP headers can provide some of the best clues about a site's CMS. The values of set-cookie and x-powered-by headers are the most common and easiest to find.
Markup
If a CMS doesn't have meta tags, it will often have other uniquely identifiable html markup. This can range from unique html comments, ids or classes.
Javascript
Similar to identifiable html markup, a CMS will sometimes insert unique Javascript code into web pages.
Versions
In addition to detecting the CMS, in some cases we are able to accurately detect which version of the CMS is being used.