EKM
---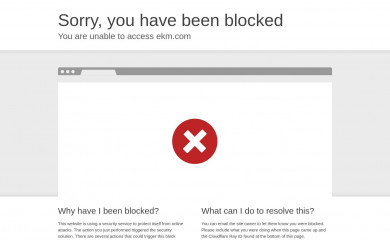 Create your own successful online shop, our UK ecommerce website platform is everything you need to sell online. Get 14 Days Free with UK based support and your own dedicated Account Manager to get you setup.
Market Share By Site Popularity
With a 0.001 increase since 2020-12-20, the detection rating for has improved the most amongst Popular Sites.
| | Alexa Rank | Websites | Market Share | Market Share Change |
| --- | --- | --- | --- | --- |
| Most Popular Sites | < 1,000 | n/a | n/a | 0% |
| Very Popular Sites | < 10,000 | n/a | n/a | 0% |
| Popular Sites | < 100,000 | 1 | 0.001% | 100% |
| Less Popular Sites | < 1,000,000 | 18 | 0.002% | 100% |
| All Sites | | 784 | 0.007% | 16.67% |
Market Share History
This chart shows the history of detected websites using .
In the last 4 weeks, market share has increased 16.67% from 0.006% to 0.007%
Top Level Domains
Websites using were found on 14 top level domains
| Top Level Domains | Percent |
| --- | --- |
| United Kingdom (.uk) | 69.45% |
| Commercial (.com) | 26.19% |
| Network (.net) | 1.540% |
| France (.fr) | 0.513% |
| Spain (.es) | 0.385% |
| European Union (.eu) | 0.385% |
| Columbia (.co) | 0.385% |
| Shop (.shop) | 0.257% |
| Australia (.au) | 0.257% |
| Norway (.no) | 0.128% |
| Italy (.it) | 0.128% |
| Tuvalu (.tv) | 0.128% |
| Ireland (.ie) | 0.128% |
| Jersey (.je) | 0.128% |
Dependencies
---
EKM depends on 0 technologies
Dependents
---
0 technologies depend on EKM